Ed Skarlem devours a watermelon as part of a watermelon eating contest Larimore Days takes place in Larimore, N.D. on July 16, 2016.
Jesse Amesmith and her guitar "Big Red" in her sound studio and band practice room, in the attic of her apartment in Rochester, NY.
Thomas Theobald performs a trick at the opening ceremony for the Big Sky State Games held at Daylis Stadium in Billings, MT on July 14, 2017.
Participants of the World Naked Bike Ride pass the Walt Disney Concert Hall in downtown Los Angeles, Calif. on June 23, 2018.
Don Johnson, 93 years old and a World War II veteran, dances with his daughter Arlyce Gibbs at Elroy Lindaas' barn dance, in Mayville, N.D. on June 25, 2016.
Aaron Yeban and Taiylor Schafer look out over Demers Ave from the median as they wait for their friend to get out of traffic, which was stopped due to flash flooding in Grand Forks, N.D. on July 19, 2016.
Theo Sum gets sprayed down after participating in International Mud Day at the University of North Dakota Children's Learning Center on June 29, 2016 in Grand Forks, N.D.
University of North Dakota Alumni Association's DeAnna Carlson Zink takes a selfie with graduates of the University of North Dakota at their summer commencement, held at Chester Fritz Auditorium in Grand Forks, N.D. on August 5, 2016.
Emily Petricig and her cousins, Evangeline and Ruby Johnson-Richards, pet Astro the therapy dog at the Cherished Children Memorial Service held outside of Altru Hospital in Grand Forks, N.D. on August 9, 2016.
Tiff Fursteneau rides Reba around the arena in preparation for the 123rd Pembina County Fair in Hamilton, N.D. on July 6, 2016.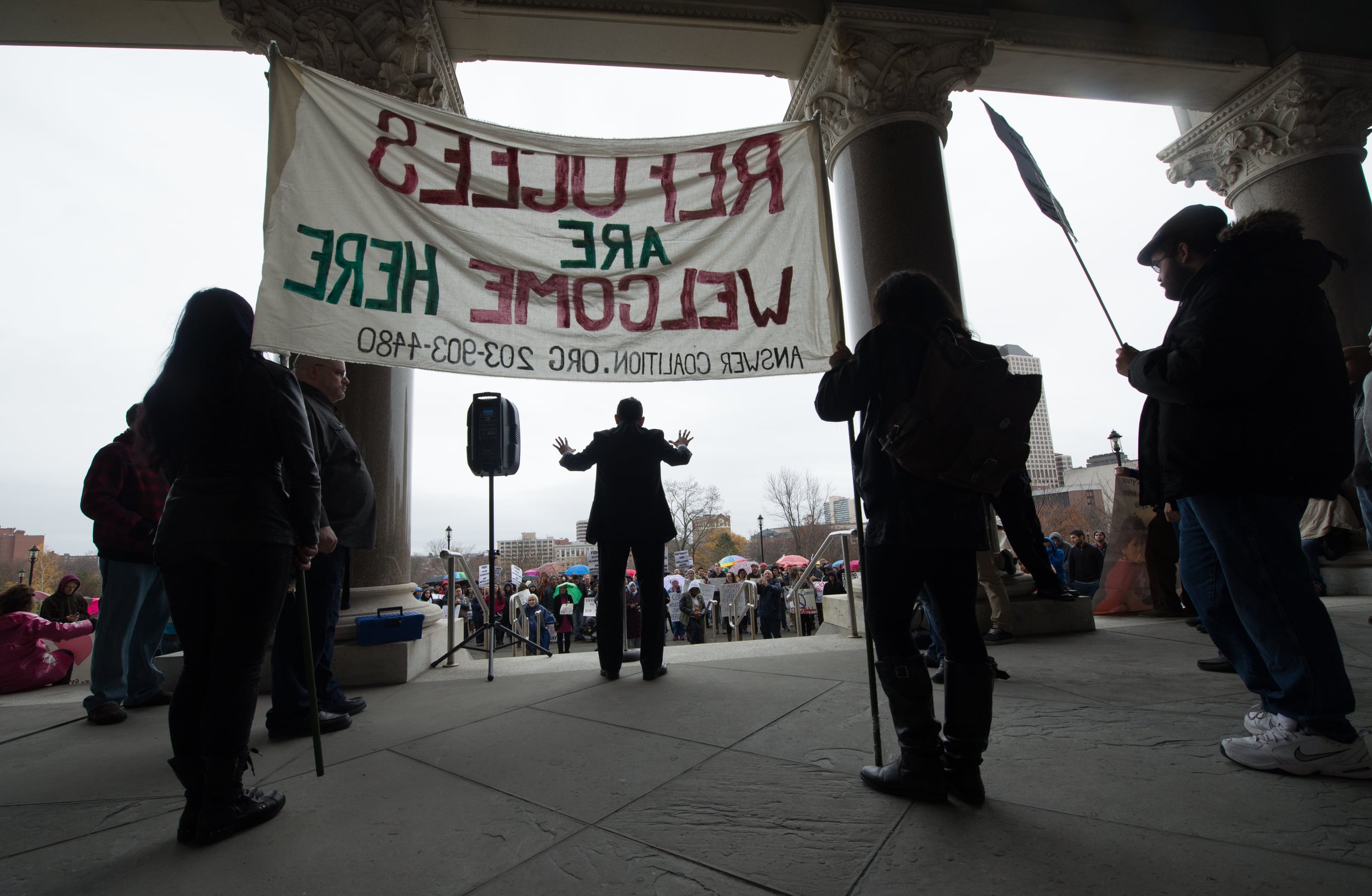 Speakers emphasize the importance of welcoming refugees at a peaceful gathering held at the Connecticut State Capitol building in Hartford, CT, on Nov. 28, 2015.