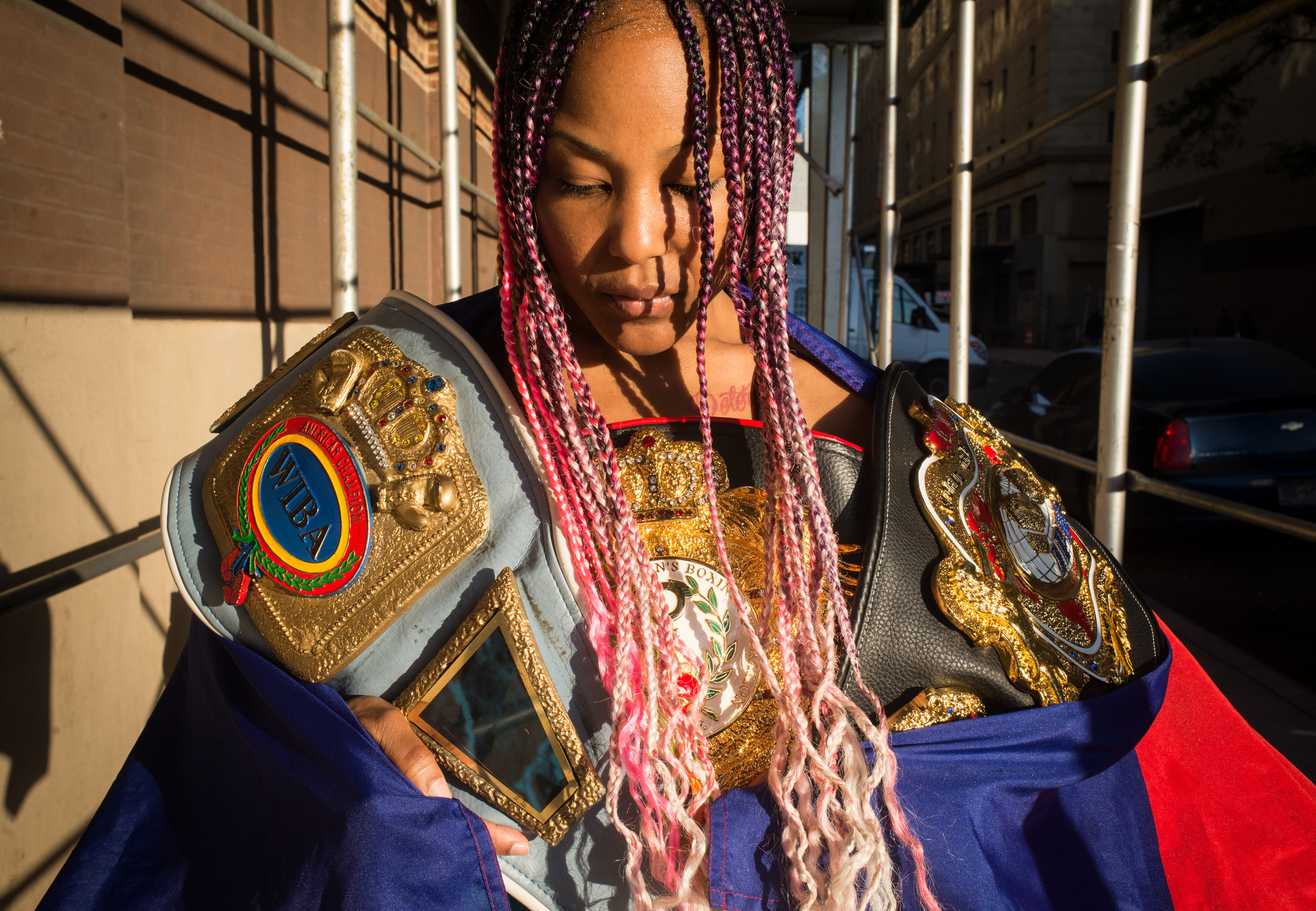 Lightweight Haitian boxer Melissa St. Vil poses for portraits outside of The Players' Tribune office in New York, N.Y. on Oct. 4, 2017.
California State Fullerton's Christina Burkenroad celebrates with her teammates after scoring their first goal of their semifinal game against UC Santa Barbara on Nov. 5, 2015 in Fullerton, Calif.
Luna Sepaniak swims the breast stroke during practice with her team at Eagle Hill School in Hardwick, Mass. on Feb. 14, 2017.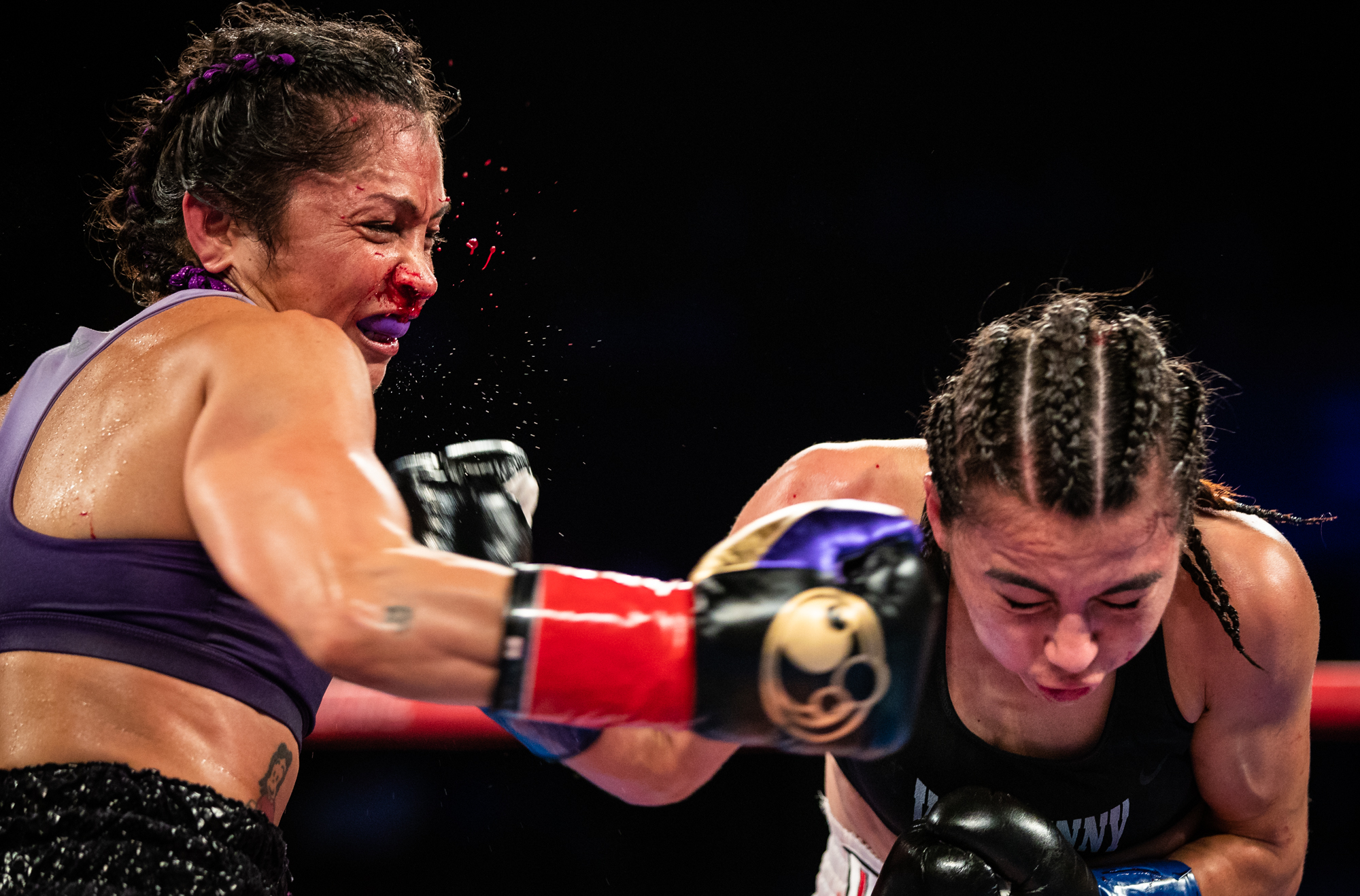 WBC Atomweight boxer Louisa Hawton of Perth, Australia fights Brenda Flores of Tijuana, Mexico at The Forum on September 8, 2018 in Inglewood, California.
#99 Brittney Zamora stands with her car ahead of the NASCAR K&N Series West Port of Tucson Twin 100 held at Tucson Speedway in Tucson, Arizona on May 11, 2019.
#13 Jimmy Reynolds of Fargo Post 2 steps up to bat, with #3 Mike Boutain on deck behind him, at their game against the Grand Forks Royals, held at Kraft Field in Grand Forks, N.D. on July 5, 2016.
​Eduarda Santos Lisboa of Brazil spikes against Russia's Nadezda Makroguzova at the FIVB Huntington Beach Open on May 4, 2018 in Huntington Beach, Calif.
Andrea Calvert and Helene Yadgood embrace in the dugout before a game against Paulo Friere on May 2, 2017 at Pioneer Field in Hardwick, Mass.
St. Louis Cardinals pitcher Jack Flaherty throws to former teammates at a practice in Los Angeles, Calif. on Dec. 10, 2018.
Irvine Valley's #17 Payton Purcell, #2 Johana Abarca, #9 Virginia Hickman and #18 Christina Anderson attempt to block a free kick at the Fullerton vs. Irvine Valley women's soccer game held at Fullerton College on Nov. 6, 2015 in Fullerton, California.
Mark Stuart climbs up the stairs at the Rochester Cyclocross course at Genesee Valley Park in Rochester, N.Y. on Sept. 11, 2016. Stuart placed first in his division.
Fans photograph forward Alex Morgan of the United States Women's National Team during the friendly game against Belgium at Banc of California Stadium on April 7, 2019 in Los Angeles, California.
University of California- Riverside's #23 Darielle O'Brien and #14 Brittany Mata react to their loss against Long Beach State at the Big West Soccer Tournament on Nov. 5, 2015 in Fullerton, Calif. The loss meant the end of their season and losing a spot in the finals.
The CycleweRx of Rochester women's racing team poses for portraits in the RIT studios, on Dec. 14, 2016 at Rochester Institute of Technology in Henrietta, N.Y.
Rochester Institute of Technology's Tim Sunnerberg yells with his cross country teammates in preparation for their race at the University of Rochester Cross Country Invitational, held at Genesee Valley Park in Rochester, N.Y., on Sept. 19, 2015.
Orange Coast College's #48 Louis Condevaux receives attention after winning the Orange Coast College vs. Golden West football game held at Orange Coast College on Saturday, Nov. 7, 2015 in Costa Mesa, Calif.